Deutsche Website

---
Ludorf manor in calendar 2019
---
Langensee manor house in calendar 2021
---
A manor house for a whole group!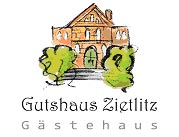 The guest house Zietlitz offers the suitable ambience for family celebrations, small seminars, groups of friends of historical manor houses; nature lovers, yoga groups and much more.
---
Manor House (Castle) Lützow
Surrounded by wide moats there stands in Lützow a romantic fairy tale castle amidst a magnificent landscaped park. The ostentatious manor house was built in the gothic revival style with two towers, pinnacles, pediments and oriels. The building was commissioned by the von Bassewitz-Behr family in 1876.
---

---

---
Since 1796 the estate was in possession of the von Behr family, as a result of marriage as from 1866 the von Bassewitz-Behr family. Previous owners had been the von Lützow family from the 14th to stretching into the 17th century. A wide outside staircase leads from the manor house into the sweeping well cultivated park with its large diversity of species and to the pond.
In the park stands the gothic revival style museum erected before 1850 with its shield above the entrance showing a bear, the heraldic animal in the coat of arms of the von Behr family. After the expropriation of the von Bassewitz-Behr family the manor house was in use as the vocational training college of the Deutsche Reichsbahn (German National Railway) until 1991. Afterwards it stood empty for some years until the company Deutsche Bahn AG sold the building in 2005.
The new owner restored the manor house inside and out, the park was freshly cultivated too. Horse breeding is conducted on the former estate, there is also an equestrian academy.
---
Ownership before 1945:
14th to 17th century

von Lützow family

1705 - 1796

1796 - 1866

Major a.D. Ernst Theodor Friedrich von Behr

1866 - 1930

Adolf Carl Otto Alexander Count von Bassewitz-Behr

1936

partly settled
47 new farms

---
Keywords: