Deutsche Website

---
A manor house for a whole group!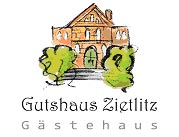 The guest house Zietlitz offers the suitable ambience for family celebrations, small seminars, groups of friends of historical manor houses; nature lovers, yoga groups and much more.
---
Manor House Jessenitz
Jessenitz is situated on the fringes of the Grey Region, south of Lübtheen. The 'Griese Gegend' (Grey Region) is a gentle landscape with hilly vast pine forests and small moors in southwest Mecklenburg.
---

---

---
During the 14th century until 1794 Jessenitz was a fiefdom of the von Pentz family. After two different changes of ownership the estate finally went to Ernst Meyer in 1855, then in 1885 to 'Charles' Carl Friedrich Beßler. He had the manor house built in 1889 in the style of neo-renaissance with clinker brick frontage and manifold decorative elements, also sandstone cornices and sandstone rendered ornaments.
The Berlin architect Johannes Lange accomplished the work by fulfilling the most modern standards of that time for instance by installation of a steam-hot-water-heating.
After the death of C. Bessler in 1897 his daughter Lily and her husband Count von Baudissin lived on the estate until 1912. Subsequently the estate changed hands many times:
1913 Peter Julius Clausen and Maximilian Meyer, 1914 von Alvensleben, 1920 Carl-Zeiss-Foundation, 1924 Heinrich Friedrichs until the grange was divided up in 1935.
The National Labour Service (Reichsarbeitsdienst) took over the manor house and after the urgently needed restoration it was used by this organisation until 1945.
After World War II the manor house first served as an abode for refugees later it provided housing to a training school for agricultural engineering, a kindergarten, the VdGB machine yard, and a boarding school. (The VdGB having been an association to represent the mutual interests of farmers, mainly the state run agricultural enterprises during the Socialist GDR era.)
After the political change the manor house was used as an educational facility until 1992. It then stood empty until new owners were found in 1997 who reconstructed the house and have ever since occupied the property.
From the construction period of the manor house on the inside the stairwell, wainscoting, and fireplaces have in parts been preserved. The building is surrounded by a small very well kept park.

---
Keywords: