Manor House Ihlenfeld
The manor house was built between 1770 and 1780 for the von Rieben family.
---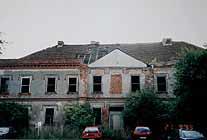 ---

---
As from 1810 the estate was in the possession of the von Michael family. In 1850 reconstruction was carried out according to plans by Friedrich Wilhelm Buttel in the style of English Tudor Gothic with high corner towers and a triaxial central risalit. The bailiff von Michael pursued the breeding of English thoroughbreds on the estate. Until 1945 the property was kept in the possession of the von Michael family. Post 1945 the manor house was used as living quarters for refugees, later for residential purposes and to accommodate a kindergarten. Afterwards the manor house was in the possession of the Rebaco GmbH company from Berlin who let the building fall into disrepair. It was demolished in 2002.
The small landscape park is nowadays again tended by the community. Foot paths and traditional orchards have been newly constructed. Some areas are now used as allotments.

---
Keywords: