Deutsche Website

---
A manor house for a whole group!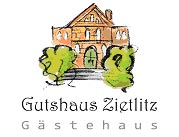 The guest house Zietlitz offers the suitable ambience for family celebrations, small seminars, groups of friends of historical manor houses; nature lovers, yoga groups and much more.
---
Manor House Friedrichsfelde near Penzlin
Around 1896 Friedrich Meier leased the demesne. The manor house, built around 1830, is a rather simple 11-axle plaster building on a boulder base. Inside in the entrance hall the ceiling paintings have been preserved.
---

---

---
After 1945 the manor house was primarily inhabited.
Nowadays there is a restaurant in the manor house and an information office of the Müritz National Park.
The manor house is flanked by two stable buildings.
The manor park is very well maintained and worth seeing.

---
Keywords: