Deutsche Website

---
Historical mills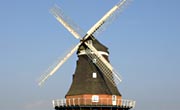 In some places these special technical monuments have been preserved. You can find many of them on the mill page.
---
So that your dream does not become a nightmare
A real estate portal dedicated to castles and manor houses in Mecklenburg-Vorpommern and Brandenburg that supports you in every phase of your project's development.
---
Bassendorf manor house in calendar 2021
---
Manor House Bobzin
Bobzin lies east of the small town of Lübz. In records of 1700 the place is mentioned as a sovereign demesne. The farm was originally located at Alt Bobzin on the banks of the river Elde.
---

---

---
In 1756 a new tenant's house was built on the plot where the building is now, initially there had been farm buildings only.
Today's tenant's house was probably modified or newly built in the mid 19th century at the earliest. In 1896 Adolf Grimm was the tenant of the then 566 hectare estate. In 1922 the estate was partly opened to settlements. From 1927 to 1945 Hans Grube was the last tenant; he had also leased the estate Hof Hagen which lies north of Bobzin.
Nowadays the tenant's house is privately owned, it is inhabited, and well maintained.

---
Keywords: