Deutsche Website

---
Castle, Manor House or Farm House?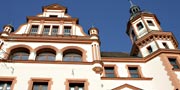 Information about the classification castle, manor house or farmhouse. Surely you must have asked yourself by which criteria we sorted the listing of manor houses and castles.
---
So that your dream does not become a nightmare
A real estate portal dedicated to castles and manor houses in Mecklenburg-Vorpommern and Brandenburg that supports you in every phase of your project's development.
---
Manor House Alt Kätwin
Manor house built around 1825/30. It is privately owned and is being renovated (status 2020). It is planned to turn the manor house into a residential and commercial building. Windows, doors and floors from the construction period will be reconditioned and thus preserved, as well as the remaining stucco elements and a wooden ceiling with inlays.
---

---

---
The park of the estate in Alt Kätwin has also been "thinned out" and freed from
undergrowth of blackberry bushes. Remarkable is a small avenue leading to a
memorial stone. It was erected for Carl Theodor Christian Hillmann, who died in
1859.
Structure of ownership prior to 1945:
| | |
| --- | --- |
| 1776-1823 | |
| 1823-1833 | Friedrich Siebmann |
| 1833-1842 | Jacob Heinrich Bollbrügge |
| 1842-1881 | L. C. C. Th. Hillmann (Heiresses of Hillmann) |
| 1881-1889 | Major Alfred von Müller |
| 1889-1899 | Adolf Hans Grüttner |
| 1899-1927 | First lieutenant (ret.) Gustav Adolf von Harder |
| -1928 | Eleonore von Harder, née Issendorf |
| 1937/39 | Walter Strasen |

---
Keywords: