Deutsche Website

---
Historical mills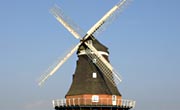 In some places these special technical monuments have been preserved. You can find many of them on the mill page.
---
Manor house Solzow in calendar 2022
---
Travelling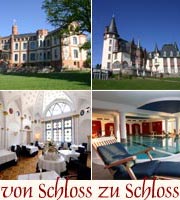 from castle to castle.
---
Manor House (Castle) and Water Tower Serrahn
Serrahn is located on the northeastern shores of Lake Krakow. North of the village, the mist can be spotted leaving the lake, flowing densely through a forest area.
---

---

---
In 1296, a mill and the lake near Serrahn were declared a property of the monastery in Neuenkamp near Franzburg. From 1453, Serrahn was a fief of the von Hahn family, until 1896 when Prince Albert of Saxony-Altenburg acquired possession of the picturesque village. The manor house had been built between 1863 and 1866 and was demolished in the 1950s.
The church in Serrahn dates back to the 13th century and was converted to a cross-church in 1872 based on plans of Theodor Krüger.
The post office was first mentioned in 1687 and is thus one of the oldest post offices in Mecklenburg.
One old blacksmith's shop has also been preserved in Serrahn and has been used as a residential building since it was renovated.
Below the tower is a watermill that is covered in fog. The technical monument can always be visited. There is a restaurant at the Mühlenhof.
---
The water tower in Serrahn
Max, Count of Hahn, had a water tower built around 1900 for farming purposes at the Serrahn Castle. It was erected using plans of architect Carl Wagner. The blueprints were presented in publications from 1903 as a sample of the historic architecture. Today, one can comfortably reside in the tower - about 70 square meters, spread over four floors.
A tower for two - An apartment for lovers, friends, for the happy and fortunate, a hiding place, a nest at the top of the treetops. A place to enjoy the togetherness. A retreat.
A perfect sight with mist whooshing at the foot of the tower, next to the historic water mill. The site simply invites you to a stroll through the landscape park that was part of the original Serrahn Castle, and you can even go further on to Nebel Valley Nature Reserve.

---
Wasserturm Serrahn
18292 Kuchelmiß, Mühlenweg 5b
Contact: Falko Weise-Schmidt
Phone: 038457-23576 oder 0178-2357600
Fax: 038457-519371
Email: kontaktSPAMFILTER@turm-fuer-zwei.de
Url: www.turm-fuer-zwei.de (in german only)
---
Keywords: