Deutsche Website

---
Manor house Rothen in calendar 2022
---
Travelling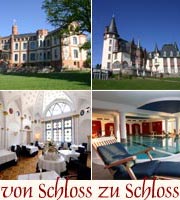 from castle to castle.
---
Manor House Rustow
Rustow was first documented in 1242. 50 years later the Pomeranian Duke of the town of Demmin certified ownership of Rustow.
---

---

---
The estate went to the provisions officer of the Swedish Garrison in Demmin Palmenhelm in 1652, and in the following years the village changed ownership many times. Adolf Samuel von Baerenfels bought the estate in 1724. His coat of arms can still be seen over the entrance to the house today. After a fire at the end of the 1870s which did considerable damage to the estate, Mr. von Baerenfels built a new manor house which was completed in 1808. The Schmidt family acquired the estate in 1856, had to however sell it to the city of Loitz in 1928 and one year later the estate was settled. The manor house had an oriel in 1920/22. The pavilion-style extension with six sets of windows and a conservatory was demolished in 1948. The manor house which had been shot at in the last days of the war, damaging the conservatory and further rooms, was plundered after the end of World War II. Orphans moved into the house in December 1945, and it remained a children's home until 1998. The manor house was emptied at the end of 1998 and put up for sale. The Beck concern acquired it in 2000. The manor house had comprehensive renovation from 2001 to 2003.
Apartments and representational office units have been there since.
There is an over 50,000 square metres of a well-cared-for park area around the manor house.

---
Firmengruppe BECK
17121 Rustow,
Phone: 091-93408-30
Fax: 0911-93408-28
Email: dieter.beckSPAMFILTER@beck-elektronik.de
Url: www.gutshaus-rustow.de
---
Keywords: