Deutsche Website

---
Manor house Rothen in calendar 2022
---
Travelling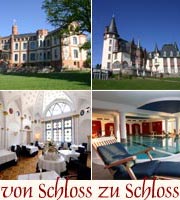 from castle to castle.
---
Manor House Rankendorf
Rankendorf is a town in Klützer Winkel. It has a representative two-storey plastered manor house from 1870. Its architectural design is based on the French Neo-Renaissance style.
---

---

---
As early as 1220, a member of the von Both family was already mentioned to have been the owner of Rankendorf. The reign of the von Both family in the village ended in 1764, when the von Bülow family acquired the estate. Rankendorf had been in the hands of the von Müller knightly family since the beginning of the 19th century. They wielded a half mill wheel in the coat of arms. The von Müller family was widely dispersed in Mecklenburg and operated a few glass factories in the Schwerin and Wittenburg regions. Later, the family took up important administration posts. For instance, Johann von Müller, senator and Hanoverian legation council, with his wife, Helene, born Maydell, were once the owners of Rankendorf. At the same time, he also owned Westenbrügge, Uhlenbrock, and Bolland. From 1890, the estate was owned by the von Bobsien family.
After 1945, the manor house served as a central school known as "Hermann-Litzendorf-Schule" up to the 1950s and as a nursing home up until 1990.
After the Reunification, the farmhouse, cattle stable, and some barns were bought back and restored by the Bobsien family. Rankendorf estate now consists of the manor house, the very well-kept park, an ice cellar, a stable, and three barns. There is a memorial plaque on the house reminding you of the 1945 land reform.
---
Structure of ownership prior to 1945:
1220 - 1764

von Both

1764 - 1780

1780 - 1787

Claus Beckmann

1787 - 1796

Johann Philipp Wilken

1796 - 1801

Hans Caspar Vorbeck

1801 - 1891

von Müller

1891 - (1938)

Friedrich und Karl Bobsien
Otto Bobsien

after 1990

Bobsien family

---
Keywords: