Deutsche Website

---
Manor house Rothen in calendar 2022
---
Travelling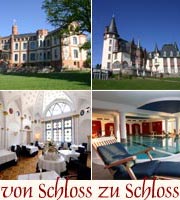 from castle to castle.
---
Manor House Rothspalk
Rothspalk was originally owned by the von Maltzan (Moltzan) family. In 1648, the estate was pledged to the Haltermann brothers in Güstrow, before it was fully acquired from the Maltzanians of the Grubenhagen line.
---

---
In 1693, Rothspalk was bought by Clemens Heinrich von Thomstorf, whose family held it until 1811. Johann, Baron of Moeller-Lilienstern, who was of Swedish origin, bought the estate and built the new manor house in Classical style. The house was designed by architect Ramée, the construction supervised by Buisson. At the time, Ramée was an internationally sought architect and landscape designer, with important buildings and parks in Denmark, Germany, France, Belgium, and the USA. In 1928, Siegfried Schulz bought the estate, which had fallen into bankruptcy. After his death in 1944, his wife, Elsbeth Schulz, became the sole heiress.
In 1945, the estate was expropriated during the land reform. During the GDR times, it served as a refugee shelter and later used as a school and for a Magdeburg factory.
After the Reunification, Dr. Andreas Schulz, grandson of the last owner, bought parts of the property in 1998 but without the manor house. The manor house was bought by the Radon family in 1997 and used to host concerts and exhibitions, which were later forbidden. Afterwards, it remained vacant and unused for several years until new owners were found.
In the spring of 2011, renovation began. The house was first rid of 40 cubic meters of garbage, the building secured, and the roof repaired.
Today, the manor house is exclusively used for private purposes and privacy is valued here just as much as in many other houses.

---
Keywords: