Deutsche Website

---
---
A manor house for a whole group!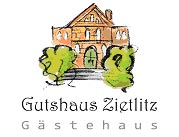 The guest house Zietlitz offers the suitable ambience for family celebrations, small seminars, groups of friends of historical manor houses; nature lovers, yoga groups and much more.
---
Manor House Janow
Janow was mentioned in documents of 1267. From the 16th century until the expropriation of Wolf Dietrich von Schwerin after the Second World War, the feudal estate was in possession of this widely ramified family.
---

---

---
From 1813 on Carl August Bogislaw von Schwerin had a one-storey manor house built in classicist style with a two-storey central risalit. It was flanked by two cavalier houses (separate buildings for staff and guests).
From 1877 on the new representative manor house was built in neo-classical style with a four-storey tower which is no longer extant. Lord of the manor was at this time Albert Julius Count von Ziethen-Schwerin. The triaxial lateral wing on the western side does no longer exist either.
After 1945 a kindergarten and the municipal administration moved into the manor house, later a history parlour was set up and housing space was created.
The community sold the manor house in 2009 together with the manor garden and the English landscape park which had been laid out during the 19th century.
Since 2009 the new owners, with the help of the village community and local companies, have been fundamentally renovating the building. The tower is also to be reconstructed in the coming years.
The park, the circular flower bed with the flanking estate buildings and the extensive estate complex appear very well-kept.

---
Keywords: