Deutsche Website

---
A manor house for a whole group!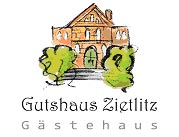 The guest house Zietlitz offers the suitable ambience for family celebrations, small seminars, groups of friends of historical manor houses; nature lovers, yoga groups and much more.
---
Manor House Jahnkow
Jahnkow was a feudal estate which was owned by the von Karkdorf family in 1519. At the beginning of the 19th century, one Herr Schulz was in possession of the estate, he sold it in 1855 to Herr Spalding.
---

---

---
As the old manor house burned down around this time, Herr Spalding had the representative new manor house built on its foundation walls. Around 1890 Alfred Friedrich Krupp acquired the approx. 575 hectares estate. After his death in 1902, his daughter Barbara Alexandra Krupp-Esten took over the feudal estate, followed by the Peters family, who were expropriated after 1945 due to the land reform.
During the GDR era many families lived in the manor house; in 1975 there were 10 flats, heated with tiled stoves, the toilets were outside. Cultural events also took place in the manor house.
Nowadays the manor house is inhabited. The wooden staircase with gallery has been preserved inside.
Some buildings of the former estate complex are extant although to the largest part they are unused and decaying.

---
Keywords: