Deutsche Website

---
Gorow manor house in calendar 2021
---
Weddings & celebrations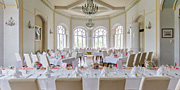 in the stylish ambience of Gamehl Castle - the faithfully restored ballroom offers room for 80 people.
---
A manor house for a whole group!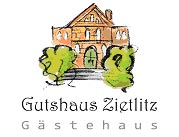 The guest house Zietlitz offers the suitable ambience for family celebrations, small seminars, groups of friends of historical manor houses; nature lovers, yoga groups and much more.
---
The Gorow Manor
The Gorow manor house, built in 1882, impresses with its symmetrical floor plan and the representative vestibule, which is illuminated with daylight via a square glass roof.
---

---

---
Gorow is presented in the two calendars of 2021
---
The room layout is thus centrally aligned; Measured against the relatively small overall size, it looks very spacious inside and offers space for a restaurant and nine hotel rooms. The building, two-storey on a raised base, with five window axes and two striking central projections, is reminiscent of the architectural concepts of Dresden city villas from the Wilhelminian era. Design models could have been the Villa Rosa or the Villa Hartmann in Dresden: the latter had been completed a few years earlier and designed in the neo-renaissance style. The owner of the new manor house was Lieutenant Dethlov Hermann von Bülow, who had a smaller, simple previous building demolished for his project.The Slavic town of Gorow is first mentioned in 1340 as the Axekowsches Gut and was then for centuries the domicile of nobility and knights, including the von Oertzen family from 1506 to 1767, followed by the von Bülow family. The moat, which is still partially preserved, indicates that there was originally a "permanent house".After 1945 and the expropriation of the von Bülow family, the manor house experienced a wide range of uses, up to 12 families lived in the building, it housed a school, a registry office and much more.
It was privately owned from 2003 to September 2018, since October 2018 the new owner is Ms. Tanja Mich.
---
Structure of ownership pre 1945:
| | |
| --- | --- |
| 1506-1767 | |
| 1767 | The von Bülow family owned Klein Bölkow since 1614 and Gorow and Clausdorf since 1767. |
| (1778)-1795 | District administrator and land-marshal Detlev von Bülow |
| 1795-1797 | The heirs of land-marshal Detlev von Bülow |
| 1797-1799 | Brothers von Bülow |
| 1799-1804 | Drost (highest district administrator) Gottfried Joachim Hartwig von Bülow |
| 1804-1811 | Chamberlain Adolph Jaspar von Bülow |
| 1811-1821 | Advocate Müller for the debtees of chamberlain Adolph Jaspar von Bülow |
| 1821-1848 | Chamber assessor Friedrich Franz von Bülow (later district administrator and vice land-marshal) |
| 1848-1859 | The heirs of vice land - marshal Friedrich Franz von Bülow |
| 1859-1866 | Brothers Friedrich Franz Carl and Dethlev Hermann von Bülow |
| 1866-1897 | First lieutenant Dethlev Hermann von Bülow |
| 1897-1902 | Alexander Karl and Gebhard Anton and Marian Rudolf and Konstantin Iwan von Bülow |
| 1902-(1916) | Marian Rudolf von Bülow (Residing at Latyczow, District of Zeniszkowce, Podolia / Western Ukraine) |
| around 1925 - 1945 | Schnütgen family |

---
Keywords: