Deutsche Website

---
Historical mills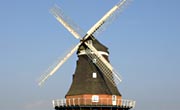 In some places these special technical monuments have been preserved. You can find many of them on the mill page.
---
Manor house Carlewitz in calendar 2022
---
Manor House Camin
Camin has been under the ownership of the von Bülow family since 1663, who were so propertied in the area around Wittenburg and Hagenow that even today people still speak about the so-called "Bülowwinkel".
---

---

---
The most famous is the former Bülow manor house Goldenbow, a Renaissance building which is being rebuilt today. However Rodenwalde, Albertinenhof, Potrems or Zibühl also count as part of the old Bülow properties.
Helene von Bülow was born in Camin in 1816. She was one of the many children of Bernhard and Elise von Bülow, maiden name von der Lühe. Helene von Bülow, who had a loving childhood in Camin, rejected the life of a lady as befitted her rank and showed an early interest as a young woman in looking after poor and sick people. She was the founder and leading hospital matron of the well-known Bethlehem convent hospital in Ludwigslust. She is still regarded today as one of the exceptional personalities in 19th century Mecklenburg. The Camin manor house is a lovely, strictly neo-classical brick building from the 19th century. It has been run by the protestant church as the "Helenenheim" for addicts since 1945, that can be followed back to an old deed of gift from the leading matron Helene von Bülow.
The Bülow family burial plot is still to be found today in the Camin churchyard.
---
Structure of ownership pre 1945:
1615-1663

Familie von Pentz auf Toddin

1664-1935

Familie von Bülow
1890-1935 Bernhard von Bülow

-1939

Reichsumsiedlungsgesellschaft

---
Keywords: