Deutsche Website

---
Recommend us!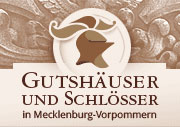 ---
Wrangelsburg manor house in calendar 2021
---
Wiligrad Castle in calendar 2019
---
Weitendorf Manor House near Feldberg
After the Thirty Years' War Weitendorf was reestablished as a princely feudal estate. The first lessee was Friedrich Peters.
---

---

---
His successor was Friedrich Cunitz. The estate then went to Bernhard Carl Julius Moll. When he died, Ernst Müller took over the lease for a few years. His successor was Helmut Fick, who held the lease for four decades. Then the estate passed to Franz Becker. After him came Arthur Rohrbeck in 1874, who in 1908 had the manor house built in the style of an urban villa. Rohrbeck also established a stud farm for crossbred horses in Weitendorf. In 1941 he bought the estate for his son Robert. Rohrbeck was forced to leave the estate during land reform. In 1952 the property became an agricultural cooperative. After reunification the cooperative was replaced by the Dolgen Agricultural Society. After the war the manor house was used as accommodation for refugees. In 1947 a school with teacher's quarters and a kindergarten was planned for the house. Today the building houses the community cultural center.

---
Keywords: