Deutsche Website

---
Historical mills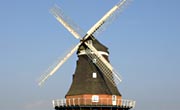 In some places these special technical monuments have been preserved. You can find many of them on the mill page.
---
Manor house Solzow in calendar 2022
---
Travelling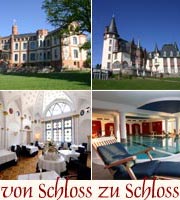 from castle to castle.
---
Manor House Sponholz
Sponholz was first mentioned in documents in 1496. In 1701, the bailiff Victor Siegismund von Oertzen purchased the estate; he sold it to Johann von Altrock in 1742.
---

---

---
He immediately commissioned ducal architect Christoph Julius Löwe to build the manor house. In 1745, most of the building had been completed, only the festive hall on the upper floor is still unfinished to this very day. The manor house has a central risalit each on the courtyard and park sides above which in each case the gable rises. They are decorated with the coat of arms and the initials of the original building owner, and each is crowned by female figures and two vases.
In 1790, Duke Adolf Friedrich IV exchanged the demesne Staven for the Sponholz estate and used it as summer residence.
After the expulsion of the last demesne tenants in 1946/47, the estate was given to new farmers following the land reform. The manor house, first occupied by refugee families, later served as a municipal office, festival hall, youth club, etc. Some stucco ceilings and supraporte reliefs were preserved on the interior. Remnants of painted wall coverings were discovered in two of the rooms.
The manor house has been privately owned since 2015.
An old legend about the Sponholz manor house tells that there is an unfinished hall on the upper floor. This came about after a construction worker fell so unfortunately during the work that he died. All the bricklaying work that was done afterwards fell off the wall again the following night - so that the work had to cease.
The bricklaying work which had been done during the day fell off again and again during the following night, and so the completion could not be achieved and the hall had to be left as it was.

---
Keywords: