Deutsche Website

---
Manor house Rothen in calendar 2022
---
Travelling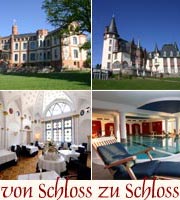 from castle to castle.
---
Park Hotel Castle Rattey
Gustav Adolf Duke of Mecklenburg-Güstrow bestowed the ownership to Georg-Henning von Oertzen in 1690.
---

---

---
The family however could only use the ownership after 1775 after the expiry of the Manteuffel family male lineage. Victor-Wilhelm von Oertzen took over the ownership during this year. His son, Hans-Christoph von Oertzen, had the manor house – a two-storey rendered building in neo-classical style built on the foundation of an older building in 1806. The von Oertzen family left Mecklenburg after the failed Hitler assassination which Hans-Ulrich von Oertzen had been significantly involved in. The von Oertzen family was expropriated in the course of the land reform in autumn 1945. Initially refugees moved into the building after the war. Later the rooms were also used as a nursery, a post office and an agricultural production cooperative kitchen.
Two entrepreneurs from Bremen purchased the manor house in 1996 and renovated it from the ground up. A hotel has been operated here since 1998.
Rattey has also become known as the most northerly wine growing area in Germany.
There are 13 oak trees in the park which are estimated to be at least 700 years old.

---
Keywords: