Deutsche Website

---
Manor house Rothen in calendar 2022
---
Travelling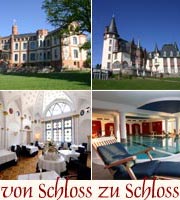 from castle to castle.
---
Manor House Ramelow
The Ramelow manor house is a one-storey, plastered, half-timbered house with a kerb-hipped roof and a wooden vestibule over three axes.
---

---

---
It was built towards the end of the second half of the 18th century. The house is at a right angle to a smaller piece of a half-timbered building with a crippled wood roof.
The manor house was built when Friedrich von Hahn was the owner. He had inherited the estates in 1769. Ramelow estate had been leased to Heinrich Hellwich. After Friedrich von Hahn died in 1805, Ramelow came into the hands of Hereditary Land Marshall Cuno Paris von Hahn from Stargard. In 1815, a share of Hahn's properties went bankrupt and Ramelow was sold. Heinrich Hase first became the new owner of the estate, before it was purchased by Johann Emanuel Hoth in 1821. They held the property for three generations until it went bankrupt again in 1895. Ramelow was then purchased by the Mayor of Schönberg, Ludwig Bicker, whose grandson was the last owner. He was expropriated following the land reform. The last occupants of the manor house moved out gradually over the last few years. It is now empty and slowly going to ruin.
Thank you for further information and pictures to Erhard Prillwitz

---
Keywords: