Deutsche Website

---
So that your dream does not become a nightmare
A real estate portal dedicated to castles and manor houses in Mecklenburg-Vorpommern and Brandenburg that supports you in every phase of your project's development.
---
Bassendorf manor house in calendar 2021
---
Manor House Berglase
The two-storeyed brick building with avant-corps was built in the 19th century.
---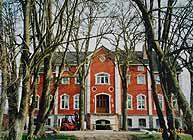 ---

---
The building was rendered after a fire in 1988 and had a flat gabled roof. The Rühe family could repurchase their grandparents' estate. They have extensively restored it.

---
Keywords: