Deutsche Website

---
Wietow in calendar 2017
---
Recommend us!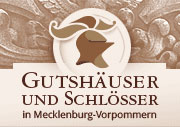 ---
Wrangelsburg manor house in calendar 2021
---
Solar Center Wietow Manor House
Wietow was an old property of the von Blücher family, which was widely distributed in Mecklenburg, and has a single-storey manor house with a lunette gable. It was built at the end of the nineteenth century.
---

---

---
---
It is a very lovely house, completely renovated between 2002 and 2004 and since then housing the model ecological project Solar Center Mecklenburg-Vorpommern. A photovoltaic conversion plant was erected on the roof; its elements are disguised as roof tiles and conform wonderfully to the fabric of the historically protected building. On the whole the renovation of the house, which is also run as a modern meeting and conference center, was very successful.

---
Keywords: