Deutsche Website

---
Manor house Rothen in calendar 2022
---
Travelling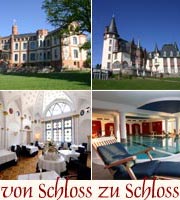 from castle to castle.
---
Manor House Rederank
The Rederank manor house is located in the small romantic village of Rederank, 20 km west of Rostock. The estate was a fief of the von Preen family for several centuries.
---

---

---
In the 16th century, Jasper (Caspar) von Bülow is said to have been the Lord of Rederank. At the end of the 19th century, the estate was acquired by merchant Wilhelm Alexander. He built the Neo-Renaissance castle before 1892. This type of building was typical among wealthy bourgeois of that time. In addition to the centuries-old nobility of von Oertzen, von Bassewitz, von Maltzahn, and others, more and more bourgeois estates were established in Mecklenburg, and new representative buildings were erected as a sign of their dignity and prosperity. For instance, the Rederank manor house was built and furnished according to the Roman villas of the ancient world. Its characteristic features include the pompous entrance hall with the pillars, the richly articulated stucco façade, the stone-like decorations in the vestibule, and the stucco frames in the salons. The interior of the house was decorated with richly ornamented chimneys, fine woods for the parquet, and fine woodwork in the dining room. The stone staircase is covered with marble tiles and modeled in black to resemble granite. Red carpets and velvets in the handrails emphasized the elegance of this staircase in the past.
In 1998, the municipality sold the manor house. The new owners have extensively renovated the listed monument, which is one of the most representative cultural monuments in the district of Bad Doberan since 1999. During the renovation work that was greatly supported by the "Förderprojektes der Deutschen Stiftung Denkmalpflege" (a German foundation for the preservation of monuments), the ceiling was restored to its original form with the historical slate ceiling. The project also made it possible to have the ceiling of the large hall painted based on the work of a famous Italian artist. Today, it has been restored completely to its former beauty.
The manor house also has a park filled with roses and healing herbs.
The manor house was sold to a new owner in 2009 and can no longer be rented.
---
Structure of ownership pre 1945:
| | |
| --- | --- |
| 1622-1800 | von Rabe family |
| (1778)-1787 | the heirs of lieutenant von Rabe |
| 1787-1800 | captain Joachim Iven von Rabe |
| 1800-1801 | valet de chambre Friedrich Ludwig Count of Oeynhausen |
| 1801-1808 | chamberlain Friedrich Wilhelm Count of Oeynhausen |
| 1808-1810 | Mr. Ditmer for the creditors of Counts of Oeynhausen |
| 1810-1811 | Johann Heinrich Ziemssen |
| 1811-1812 | the heirs of Johann Heinrich Ziemssens |
| 1812-1839 | councillor of commerce C. H. Erichson |
| 1839-1867 | Carl Erichson |
| 1867-1887 | Theodor Ludwig Heinrich Eggerß |
| 1887-1901 | Albert William Alexander |
| 1901-1945 | Friedrich Strack |

---
Keywords: