Deutsche Website

---
Daschow manor in calendar 2019
---
Dersentin manor house in calendar 2021
---
Manor House Dennin
It is assumed that the Dennin property, together with the neighboring Spantekow castle, was one of the oldest possessions of the noble von Schwerin family and that the ancestor of the family lived in the castle around 1150.
---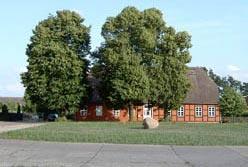 ---

---
From 1634 to 1727, the property was owned by the Count von Steenbock and later used a Prussian demesne until 1833. In 1833, the von Schwerin family got back their properties after 199 years. This was after they had finally won the 94-year long dispute! The Russian occupation expropriated the property.
After the formation of the GDR, the estate was a made a state-owned property in 1949. On April 1st, 1993, it was privatized through a fiduciary and purchased by Denbina Gutsbetrieb GmbH & Co KG. The company is owned by the Schroll family from Denmark. Since 1993, about € 2.5 million has been invested in modernization and renovation, with the objective being to ensure harmonious management of the property. The production branches are designed in a way that ensures extremely high quality in the production of animal and vegetable products.
Information about Denbina estate: www.denbina.de (in german or danish only)

---
Keywords: