Deutsche Website

---
Recommend us!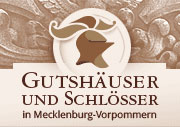 ---
Wiligrad Castle in calendar 2019
---
Midsummer Remise
22. & 23.06.2019
The weekend of Nordic castles and manor houses.
Move with us from estate to estate.
---
Wartin Manor House
The house was built in the Baroque style. Alterations were made in the 18th and 19th centuries.
---

---
The estate was owned by, among others, the von Blanckenburg, Ramin, and von der Osten families and was divided up into smallholdings between the two world wars. After 1945 the municipal council and apartments were located inside.

---
Keywords: