Deutsche Website

---
Recommend us!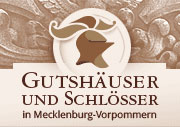 ---
Wiligrad Castle in calendar 2019
---
Midsummer Remise
22. & 23.06.2019
The weekend of Nordic castles and manor houses.
Move with us from estate to estate.
---
Gutshaus (Herrenhaus, Schloss) Wrodow
Durch Verpfändung gelangt das Gut in den Besitz von Bernd von Maltzan. Wiederum als Pfand erhält es 1656 Joachim Engel. Im Jahre 1717 ist die Familie von Barner im Besitz des Gutes, bis es 1751 an die Familie von Peccatel gelangte.
---

---

---
1758 gelangt es durch Verkauf von der Familie von Maltzan in den Besitz des Hauptmannes von Ziethen, der es Ende des Jahrhunderts an Karl Martin Greffrath verkauft. Seit 1817 befand sich das Gut dann im Besitz der Familie Neumann. Das Herrenhaus wurde an Stelle einer ehemaligen Burg im 19. Jahrhundert im Stil der Gründerzeit errichtet. Es besitzt wahrscheinlich einen barocken Kern. Nach 1945 waren dort Flüchtlinge untergebracht. Seit den 1950er Jahren begann der Leerzug des Gebäudes. 1987 erhielt es ein neues Ziegeldach.
1993 erwarb der Berliner Freundeskreis "Kunstverein Schloss Wrodow" das Herrenhaus. Seitdem läuft die Sanierung, die jetzt fast abgeschlossen ist. Es wird für Konzerte, Lesungen und Ausstellungen ("Wrodower Begegnungen") genutzt.
---
Structure of ownership pre 1945:
1271

convent Ivenack until secularization

1656-1717

Joachim von Engel

1717-1751

colonel von Barner

1751-1785

von Peckatel

1785-1794

by way of a pledge von Ziethen

1794-1817

Karl Martin Greffrath

1817-(1930)

Johann Gottlieb Neumann
1921 Ludwig Neumann

1936/37

Max Köller

---
Keywords: