Deutsche Website

---
Travelling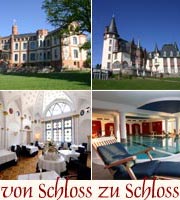 from castle to castle.
---
Manor House Rogeez
The Rogeez estate was under the ownership of the von Bülow family from 1914 to 1945.
---

---

---
The photo shows the silver wedding anniversary of Otto von Bülow and his wife Auguste von Bülow, maiden name von Plessen. The five children and relatives are in the background: von Zülow, von Plessen, von Puttkamer, and von Oertzen, among others.

---
Keywords: