Deutsche Website

---
---
Travelling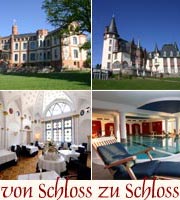 from castle to castle.
---
Holiday in Klein Kubbelkow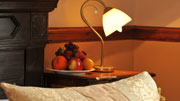 On the island of Rügen, in dreamlike peace, not far from the Baltic Sea, you reside in spacious rooms and suites.
---
Manor House Alt Necheln
To stay with friends in Alt Necheln
The house itself has generous rooms such as the entrance area with a library, the small and great halls, in which breakfast is also served.
---

---

---
Upon request, breakfast can be also be served on the garden terrace. The large park-like garden and the jetty on the Warnow invite you to linger. Families with children are warmly welcomed to the manor house. The holiday apartment Biberburg (120 sq. m) has room for 4 - 8 people. Next to a cosy wood burner, you can find everything you want for a relaxed holiday (open kitchen with large dining table, dishwasher, bath, 2 separate bedrooms). The Warnowblick apartment (80 sq. m) is lovingly furnished for 2 - 4 people with a large living/sleeping area, the kitchen with corner seating, dishwasher and a bath round off this lovely wellbeing apartment offer. The small apartment on the ground floor is called Zum goldenen Frosch (30 sq. m) and is wonderful for 2 people. Double bed, corner seating with a sofa bed, corner kitchen and bath invite you to relax.
For further information and pictures

---
Gutshaus Alt Necheln
19412 Alt-Necheln, An der Warnow 6
Contact: Constance Beyer
Phone: 03848-329710
Email: kontaktSPAMFILTER@meingutshaus.de
Url: www.gutshaus-altnecheln.de (in german only)