Deutsche Website

---
Weddings & celebrations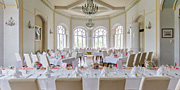 in the stylish ambience of Gamehl Castle - the faithfully restored ballroom offers room for 80 people.
---
New Manor House Calendar 2019
The calendar "Manor Houses and Castles in Mecklenburg-Vorpommern 2019" can be ordered now. As the 2018 calendar already had, the new A4 calendar also has a big brother in A3 landscape format.
---

---
About the calendar series:
This attractively designed calendar, which has been published annually since 2006, provides an insight into the unique cultural landscape of Mecklenburg-Vorpommern. On each of the 12 calendar sheets we describe the history of one estate and its location as well as the corresponding farm house, manor house, or castle and add a large main picture and another illustration. A map section shows the location of the places. After the 12th sheet follows an additional page with historical photographs of the houses or portraits of the owners of the estates. On the back jacket the map illustrates the location of all places, and a further 9 pictures are presented.
In 2019 we introduce:
Neu Wendorf, Daschow, Neu Bartelshagen, Ludorf, Greven, Dönkendorf, Samow, which after decades of decay now shine again in their old splendour and some houses offer holiday residences. Of course the significant Castles of the Dukes of Mecklenburg and Pomerania cannot be omitted: the Castle Wiligrad, the Castle Ludwigslust and Ludwigsburg, all of them are open to the public. A lovingly restored former moated castle is also included: Turow.
The prices for the calendars remain stable: 14.00 EUR for the A4 calendar and 19.50 EUR for the A3 calendar.
If you would like to order from us, simply send us an e-mail to info@gutshaeuser.de mentioning the desired format and number of calendars wanted. We will mail the calendars within two days upon receiving the order.
---
The manor house calendars briefly:
- Cover page
- 12 calendar pages
- Sheet 13 with historical photographs
- General map and small discoveries (cardboard rear)
- Format A4, portrait or A3 landscape
- Ring binding
- Shrink-wrapped into foil
The book is unfortunately only available in German. But you can find many of the houses we present in it on our website with an English translation.