Deutsche Website

---
Travelling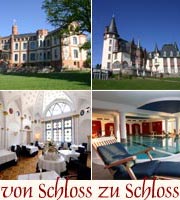 from castle to castle.
---
Raben Steinfeld Castle
Raben Steinfeld first appears in historical records on January 11, 1410, taking its name from the von Raben family and from the stony nature of the local fields (Stein=stone, feld=field).
---

---

---
A German castle is known to have stood on the site ca. 1160. In 1648 the estate passed into the possession of the duchy. In 1679, the village was acquired by Colonel Helmuth von Plessen, only to pass in 1683 to Duke Christian Louis I of Mecklenbug-Schwerin. In 1847 the estate was declared to be a private holding of the grand ducal family. Duke Friedrich Franz II set up a stud farm in the village, and the house was built between 1886 and 1887 under Duke Friedrich Franz III - a Neo-Renaissance red brick building designed by Hermann Willebrand.
Schloss Raben Steinfeld is idyllically situated in large English country park which extends to the shores of Lake Schwerin. The park, which was designed by court gardener Theodor Klett, was created in 1851 and still harbours a number of dendrological specialities. The house remained in the possession of the grand ducal family until 1945.
Between 1946 and 1995, it was used as a training centre for forest wardens and forestry engineers.
The village also boasts some well-preserved red brick farm labourers' houses which were built between 1863 and 1869 and are well worth a look.

---
Keywords: