Deutsche Website

---
Historical mills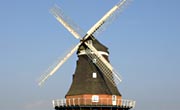 In some places these special technical monuments have been preserved. You can find many of them on the mill page.
---
Castle, Manor House or Farm House?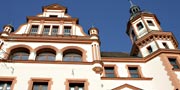 Information about the classification castle, manor house or farmhouse. Surely you must have asked yourself by which criteria we sorted the listing of manor houses and castles.
---
Travelling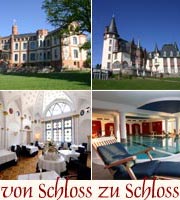 from castle to castle.
---
Neustrelitz Castle
Between 1726 and 1731, Jagdschloss Glienecke, a hunting lodge, was converted by the architect Christoph Julius Löwe into an three-storey, three-wing but otherwise unostentatious palace.
---

---

---
It was later added to by Christian Phillip Wolff, Friedrich Wilhelm Buttel and Friedrich August Stüler. The Baroque gardens were designed by Christoph Julius Löwe in 1732, and in 1733 Neustrelitz became the residence of the Duke of Mecklenburg-Strelitz. The orangery was constructed in 1755, and between 1840 and 1842 converted into a Neoclassical garden salon with Pompeian ceiling paintings which can still be seen today. The park features various sculptures, a temple dedicated to the Prussian queen Luise, who was from the House of Strelitz, and a temple dedicated to Hebe, the Greek goddess of youth. The palace burnt down in 1945, but the Gothic Revival Schlosskirche (palace church), the Carolinenpalais and the Basswitzsche Palais still stand. To the south of the site of the palace there is a small zoo which was created in 1721 as a game enclosure. Its main gate is adorned by two impressive stag sculptures by Christian Daniel Rauch.

---
Touristinformation
17235 Neustrelitz, Schlosspark
Phone: 03981 253-119
Fax: 03981 2396870
Email: touristinformationSPAMFILTER@neustrelitz.de
Url: www.neustrelitz.de (only ger)
---
Keywords: