Deutsche Website

---
City Guide Stralsund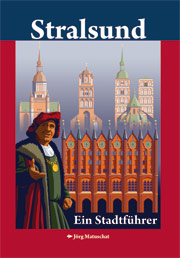 for guests of the Hanseatic city: A richly illustrated ramble through the present and history of the Hanseatic city of Stralsund with a map of the old town.
---
book "Fotografische Zeitreise - Vorpommern", Volume 3 (A Journey through Time in Photographs)
After 2011 and 2012 the photographic time journeys Vorpommern 1 and 2 appeared, now the third volume follows our journey through Vorpommern.
---

---
Again, we compare historical views with today's conditions, supplemented by a short text providing information about the history of the place and the estate.
Looking at and comparing the photos from the different periods, it becomes clear how serious the political and economic upheavals are not only for the structure of the estate and its buildings, but above all for life and work in the countryside. Today, the buildings are often the focus of the interested public. But we would like to pay tribute to those who, through their hard physical work, made the construction of these buildings possible in the first place. On the pages of the village of Blesewitz you can see pictures of the harvest, of fishing or livestock farming and - hardly imaginable in today's life - children reading the remaining ears of corn on a harvested field.
In this volume we are happy to once again show houses that a few years ago were considered to be irreparable ruins, but today they shine again in new splendour and are filled with life. A great example of this successful reconstruction is the manor house in Plötz. Other owners are still on their way there, such as Janow, Broock and Tentzerow - they are the ones who, through their courage, their initiative and not least with great financial expenditure, preserve our manor landscape for future generations.
With great concern and in the hope that the owners will recall their responsibility, we look at the manor houses which have been abandoned to decay for many years and which have been denied any help against the threatening meteorological demolition, such as Altwigshagen, Daskow, Grellenberg and Kuntzow.
Other manor houses have disappeared for many years - demolished, burnt down, decayed. Whatever the reasons, it is a pity for each individual building, because these villages have lost their centre, their character, the structure and the former centre of life, culture and work, such as the manor houses in Gehag, Rollwitz and Wendisch-Baggendorf.
Last but not least, there are again "real" castles, the houses of the Dukes of Pomerania and Pomerania-Wolgast in Pudagla and Penkun, as well as two castles: Landskron and Spantekow.
We would not like to miss to say thank you to all those who provided us with historical or current pictures, information or simply a coffee on a farmhouse tour. They are the ones who fill our time travel with content and life. We also look forward to receiving historical postcards, photographs of estates or information about the places.
Now we wish all readers a lot of fun with this further photographic time journey through Vorpommern.
---
You can find these places in the book:
The manor house book in brief:
Titel
Table of contents with overview map
151 sheets
Format A5, landscape (21 cm x 14,8 cm)
Paperback
shrink-wrapped
price € 14,95
---
The book is unfortunately only available in German. But you can find many of the houses we present in it on our website with an English translation.