Deutsche Website

---
Castle, Manor House or Farm House?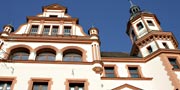 Information about the classification castle, manor house or farmhouse. Surely you must have asked yourself by which criteria we sorted the listing of manor houses and castles.
---
Two new castle-calendars 2018
---
Gutshaus Augustenruh
Laut dem "Großherzoglich Mecklenburg-Schwerinsches offizielles Wochenblatt 1847" werden am 18.10.1847 die Güter Lüssow, Augustenruh und Alt Gaarz des Gustav Stein unter den Brüdern Stein aufgeteilt.
---

---
Augustenruh wurde am 22.07.1847 zu einem Hauptgut erklärt, bis dahin war es ein Nebengut von Lüssow.

---
Keywords: