Deutsche Website

---
Castle, Manor House or Farm House?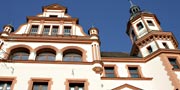 Information about the classification castle, manor house or farmhouse. Surely you must have asked yourself by which criteria we sorted the listing of manor houses and castles.
---
Two new castle-calendars 2018
---
Farm house Alt Steinhorst
Deutsch and Wendisch Zeppelin, now Alt- and Neu Steinorst, formerly also Zeppelin in der Steinhorst referred to as.
---

---
Structure of ownership prior to 1945:
| | |
| --- | --- |
| 1675-1791 | |
| 1704 | von der Lühe, Vollrath Augustin or Anna Elisabeth Sophie Ilsabe von der Lühe |
| (1778)-1791 | cavalry captain Gustav Ludwig von der Lühe |
| 1792-1798 | wife of the above Ida Margarethe von Kardorff (siehe Neu Steinhorst) |
| 1798-1801 | Vollrath August von Kardorff |
| 1801-1830 | Johann Heinrich Bahrdt |
| 1830-1839 | Christian Ludwig Melms |
| 1839-1847 | Ludwig Melms (see Neu Steinhorst) |
| 1847-1854 | Friedrich Johann Gottlieb Hommel |
| 1854-1868 | Richard Schmidt (1868 the creditors of the Schmidt family) |
| 1868-1898 | Andreas Gottlieb Carl Ernst count von Restorff |
| 1898-1908 | Philipp Baller (see Neuendorf) |
| 1908-(1930) | lieutenant d. L. Fritz Lüdecke |
| (1936-1938) | privy councillor of commerce Gustav Boldt (Rostock) |

---
Keywords: